Cattle are shining and looking much better than neighbours cows.
Results are in
We have increased cattle weight by 32% in 17.5 weeks'.
Weighed Brahman bull cattle 14 July at algae farm at Bowen.
They are 12 to 18months old weighing on average 343kg.
Been on algae water and grass not fertilised or irrigated with no other supplements or hay since March 20. So in 17.5 weeks average weight gain 85kg ie 0.7kg/head/day at a stocking rate of One Beast to 3 acres.
Grass well eaten down before trial cattle with change over same day.
Good result with very dry conditions since March 2021
Rainfall Bowen March 126mm April 33mm May 0 June 19mm July 0
Cattle are shining and looking much better than neighbours cows who have been on grass and minimal molasses/bread.
Algae very cheap 50% plus protein supplement at 10 to 14 cents per litre and we can concentrate 1:166 litres making it very economical to cart long distances.
Testimonial Vic Deguara from Savannah Brahman Stud, via Mackay
'I have been using the Algae from the Biogenesis Algae farm for 6 months now. I own and run Savannah Brahman Stud at Eton just outside Mackay in Central Queensland comprising of 200 head.
I have been breeding and selling Brahman cattle since 1961 that is 60 years on my farm.
I have noticed the following.
1. My cattle are quite and more relaxed since feeding the BioGenesis Algae.
2. I feed my whole herd from calves, mothers and bulls being prepared for sale.
3. I have noticed their coat and skin is shiny and they look in great condition as per the attached photo for the end of July in the Mackay region
4. Whilst I have not weighed the cattle, I am confident that my cattle are maintaining not loosing weight in winter and will confirm this by the end of the year. This is unique for me.
5. I do not use any other supplements other than the Biogenesis Algae.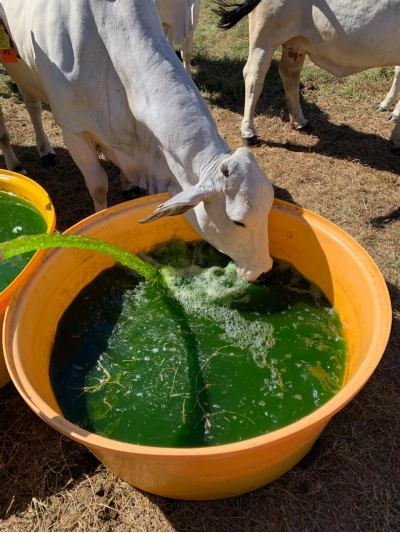 Thanks Vic Deguara.'
Please contact Frank Mason from Genesis Algae Innovation
0403927967 for full analysis of the product
Biogenesis is a pioneer in producing Algae in Australia and the first to do so on a commercial scale exporting all over the world for the last there years.
Since November last year we have been using the water/alive and dead algae from the our algae pond periodic clean out to ad lib feed a wide range of animals with amazing feedback from the farmer science trials.
Over all the farmer trials occurred with farmers over 58 years old, second generation farmers with key attention to changes.
They all are continuing to use adlib feeding for their animals and are eliminating or cutting down on molasses grain and supplements etc.
Re CH4 reduction, some work internationally which I will find for you shows 30% reduction in CH4 and with the removal of the oils in Chlorella there was a reported 60% reduction. All need to be verified in Aust.
The most exciting part of this feed supplement is the use of LIVE PROTEIN which is very valuable in any diet plus the omega oils, vitamins and nutrients in a complete package single cell plant.
Live food is full of enzymes whereas dead food has no enzymes, so what are enzymes? Enzymes are molecules of protein that are made from amino acid chains, these specialized proteins are what makes life possible. They are needed for every chemical reaction that takes place in an animal.
Without enzymes, these reactions would not occur fast enough to sustain life. There are three types of enzymes. Metabolic enzymes, that are produced by the body, which are in charge of energy production in the body on every level, copying genetic information to make new cells and many many more functions.
Digestive enzymes, which are also produced by the body, which assist the body to break down and assimilate food into nutrients. Food enzymes, which an animal DOES NOT PRODUCE, these important enzymes come from plants since animals do not make these enzymes.
We are now embarking on concentrating the live algae for wider distribution across Australia. 166L of live pond algae is being turned into 1 Litre of concentrate which needs to be stored in a fridge and will stay alive for a month. It can be reconstituted with 166L of water and fed in toughs or used as the concentrated in drinking water or feed ration mix.
We have also priced the LIVE ALGAE WATER AND SEDIMENTS at 14 cents/Litre ex Bowen, the algae concentrate at $20/Litre and LIVE ALGAE WATER at 10cents per litre. THIS MEANS SUPPLEMENT COSTS AT IN THE ORDER OF 14 TO 28 CENTS PER DAY AND CAN BE ADDED TO ANY GRASS FED ENTERPRISE OR A FEEDLOT OR INTENSIVE ANIMAL FEEDING.
1. Algae is a true superfood containing high protein (55%), vitamins and a range of other nutrients such as Iron, Magnesium etc that in a SINGLE CELL 5 microns in diameter
2. Its growth rate is it doubles growth every day
3. It absorbs carbon dioxide massively turning 3 tonne of CO2 into a tonne of algae,
4. It is very dense and stable up to 3 years when dry and when alive one month with refrigeration
5. Algae contains vitamin B12 which is found in very few plants, important for blood and nerve function.
FOR ALL INFO AND ORDERS
PHONE FRANK MASON
Mobile 0403 927 967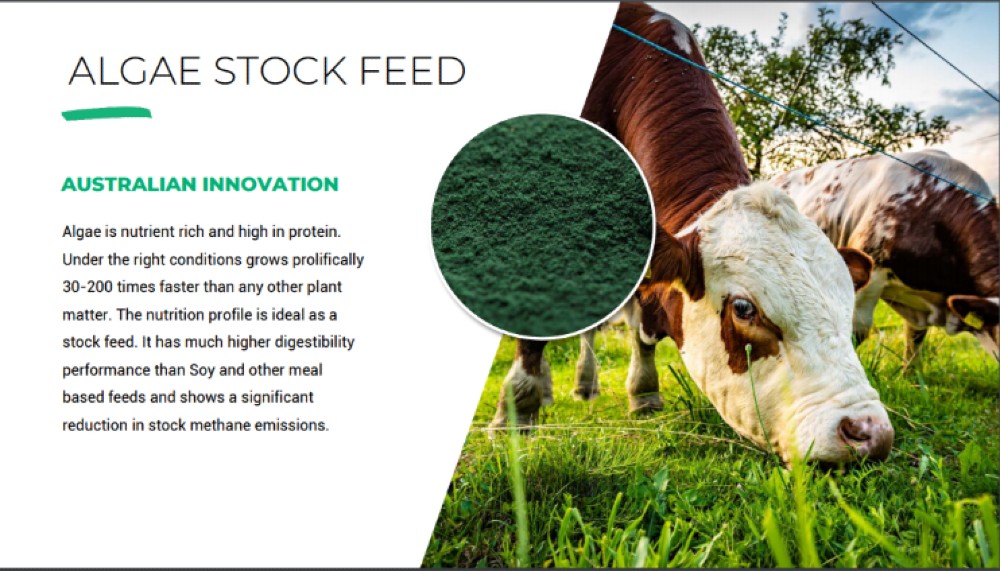 View/Download Attached PDF File/s: