Sale Day 23rd July 2020 1.30pm.
Bull sale date and Open day dates....
Open Day Monday 29th June 2020 9am to 4pm
Sale Day 23rd July 2020 1.30pm.
The Amos-Vale Hereford Stud was founded in 1967.
Amos-Vale bulls are renowned for breeding on. This is shown by progeny which are consistently topping the markets of both store and fat sales.
The Amos-Vale female herd consists of quality cattle displaying good size, colour and constitution, and all are of excellent milking strains.
CLICK ON CATALOGUE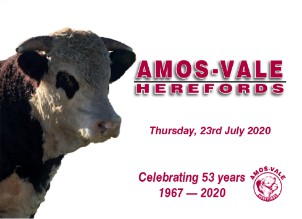 Sires for use in the stud have always been carefully selected, we've maintained a high standard of selection criteria and sourced some of the best and most suitable bloodlines from a wide range of leading studs throughout the nation.
Using the best genetics in pursuit of breeding top quality Hereford cattle.
Check out this years sale team
(Click on images for website)