Friday, 4 September 2020
Yulgilbar Santa Gertrudis Stud
The annual production sale
Friday, 4 September 2020
It was a great Result Yulgilbar
Results
92 Santa Gertrudis bulls selling to a top of $45,000
Averaging $9097.
Heifers average $7450.
Very Strong support came from Queensland at the Yuligbar Sale
Bill Speed, Brigadoon Cattle Company at Wondoan paid top money for the rising two-year-old heterozygous poll Yulgilbar Parramatta P130, by Ideal Neptune N78
Kirkwood family, Disney Station at Clermont, Qld, were among the volume buyers, taking home six bulls including Riverina Patriarch P018, a sire produced by the Sinnamon family's Kyogle stud, RL Pastoral which also won the bid on homozygous poll Yulgilbar Platinum P270 by Cardona Patterson P53 for $28,000.
Craig Ross, from Kemmis Creek Station at Nebo paid $14,000 for heterozygous poll Yulgilbar Pedro P258.
Walker family, Strathmore Stud, Blackall, Qld, bid $14,000 for the homozygous poll Yulgilbar President P214 by Yarrowonga Drover
Collingwood Pastoral Company at Tara, Qld, brought 6 bulls including Yulgilbar Puma P398 for $7,500.
Arrabury Pastoral Company at Mt Leonard Station, Windorah, QLD bought 6 including homozygous poll Yulgilbar Park Ranger P234 by the popular sire paying $12,000.
LOT BY LOT RESULT
CLICK
Wrap up with Darren and Rob
This year's draft presents the largest number of top shelf contenders yet bred by the stud.
Depending on what specific traits you are looking to target in selecting bulls this year, we have bulls showing a good range of impressive performance traits including good Raw data like daily weight gain, Eye muscle area, fat cover, imf and scrotal size.
Most importantly no bull is being offered that we would not happily use with confidence in the breeding herd at Yulgilbar Station.
For more information
Give Rob a call
Contact Rob Sinnamon
Phone 0428472401
CLICK ON CATALOGUE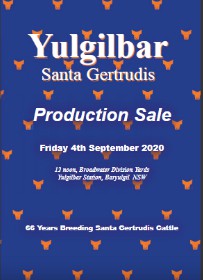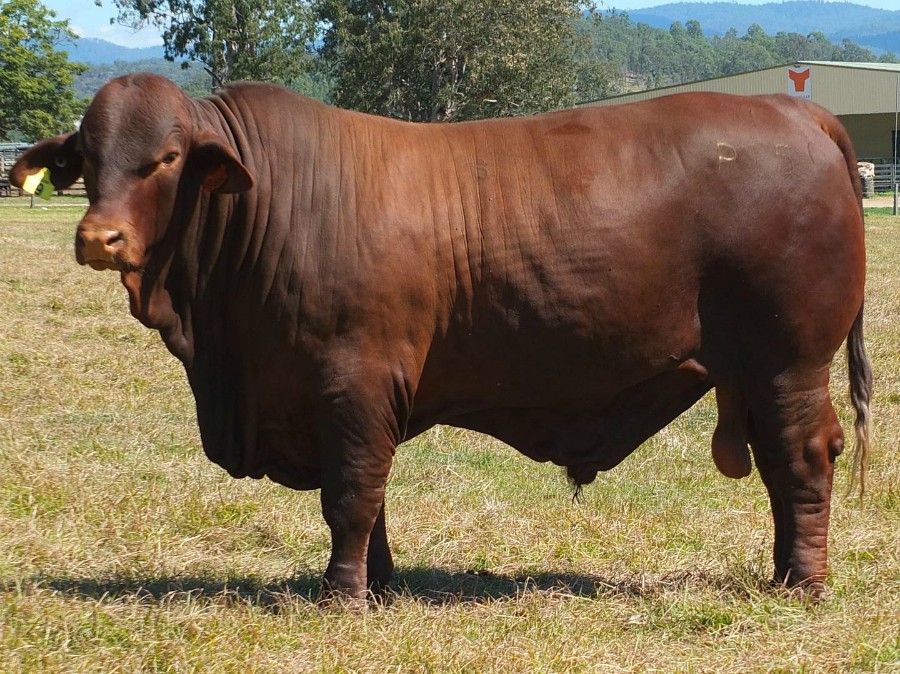 Lot 9- Yulgilbar Premier. His sire was the Top Price bull at the 2017 Dunlop sale while his mother is by the best son of Warenda Sahara -Yulgilbar Governor (PP).Governors mother was Junior Champion at the Royal Easter Show in 2009. At 22 months weighing 864 kg with a daily weight gain of 1.3kg/day, I love the overall balance and completeness of this bull.
Good temperament ,Superbly structurally correct and with ideal Santa Gertrudis Breed character- this guy simply oozes "look at me" Eye Appeal! He measures 41 cm in the scrotal and has fat cover of 18mm on the rump and 9 mm on the rib .Combine 5.4% IMF and an eye muscle area of 123 square cm, Premier exhibits carcass traits to ensure a desirable muscle definition while retaining enough fat cover to ensure he will handle the toughest of seasons. A well laid in shoulder also suggests a bull that will produce performance orientated progeny that will still ensure he will suit heifers as well as cows.
Lot 2 Yulgilbar Penfold P226 (P) A standout stud sire prospect that combines outlook and balance. Tremendous length of body combining strength of spine, desirable tropical skin type and breed character. Ranks top 5% for 600 day growth, top 10% for 400 day growth and mature weight. Dam J193 - 3 calves. All classified with 2 females retained in the herd.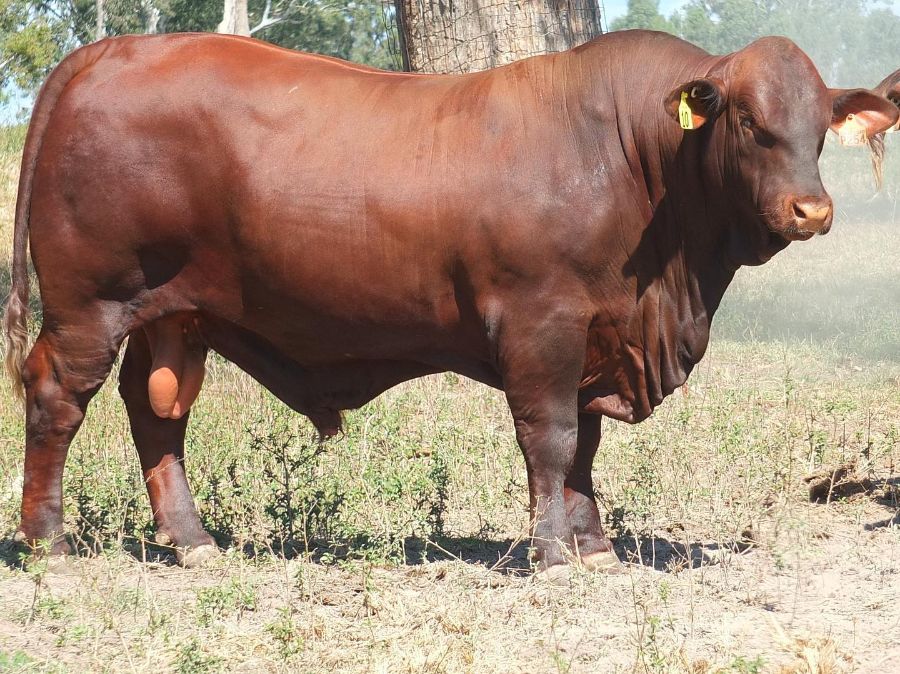 Lot 10 An all round performer here! Exhibits the outstanding attributes of his sire Cardona Patterson.Long bodies,slick coated and structurally top 5% of the breed for 200,400 and 600 day growth.A half brother from the same cow sold for $30000 to S Kidman and Co.
Check out Yulgilbar Pastoral Company YouTube channel to see video of all lots being sold by physical live auction and interfaced online with Elite livestock auctions and AuctionsPlus sale on Friday 4 th September 2020. (Click on image)