Location: 2021 Annual weaners Sale at Biloela
Yarding: BILOELA PRIME & STORE SALE 15TH JUNE CANCELLED
Report Date: Tuesday, 15 June 2021
BILOELA PRIME & STORE SALE 15TH JUNE CANCELLED
EU ADDREDITED SALEYARDS - EARLY BOOKINGS INVITED!
🔷CONTACT OUR LIVESTOCK TEAM TODAY 🔷
RANDALL SPANN: 0429 700 332
SIMON CLARK: 0428 498 411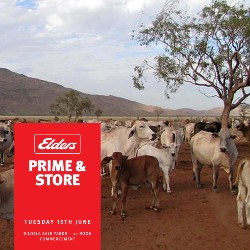 📢 SALE O' SALE O'!
ELDERS BILOELA EOFY WEANER SALE - 29th JUNE 2021
🥇Prize - Champion Pen #1 Weaner Steers (Minimum Pen of 8 Head)
🥇Prize - Champion Pen #1 Weaner Heifers (Minimum Pen of 8 Head)
🐂Further Bookings Invited - 450 HD Currently Booked!
Contact our our livestock team today to book your cattle in.
Randall Spann ~ 0429700332
Simon Clark ~ 0428498411
Elders Biloela Sale 18th May
A terrific yarding of 848 weaners were yard. for the 2021 Annual weaners Sale at Biloela.
Firstly, we would like to congratulate each and every one of our vendors on a magnificent yarding of weaners,
Best there has been for a long time.
This is first year Elders Biloela present. Champion Pen of Steers and a Champion Pen of Heifers.
The Champion pen of steers went to "Rathgibbon, T & M Dunn and family, they won the Wild River concrete 3 metre trough.
The Champion pen of heifers went to K & R Boal winning the Wild River R10 round trough.
A big thank you to Wild River Concrete for their Sponsorship and our Judge Gavin Arneil.
Prices were well up for all descriptions of cattle. Top of the day was 622.2 cents/kg on three occasions twice on behalf of W & 0 Clifford Barina for 2 pens of Charolais/ Santa cross steers & Lurlene Graving for a pen of Brangus cross steers.
Top price pen of heifers was offered by W & 0 Clifford Barina at 528.2 cents/kg.
Both prices for steers and heifers were records for the Biloela Saleyards.
Congratulations to all our vendors and thank you to all purchasers for their support and we hope to see you all again next sale.
Related Articles
This Article is Located in
Cattle Market Reports