Land Size: Containing approximately 2.239 hectares, for the purposes of Commercial and Business.
Location: Karumba, Queensland
Special Features: The lease commenced on the 6th December 2002 and expires on the 30th June 2027
For Sale by Expressions of Interest...
Karumba Livestock Exports Pty Ltd (KLE) is a facility located at Karumba in Queensland and is licensed as a Department of Agriculture, Forestry & Fisheries (DAFF) accredited Livestock Export Quarantine Depot and Shipping Wharf loading facility.
The property has an area of approximately 2.2 hectares and is located in the Shire of Carpentaria, parish of Kimberly, County of Norman.
The yards comprise ten main pens totalling approximately 5,100m2 and are a mixture of steel posts with 8 strand steel cables, and steel rails, steel posts with a blend of metal panels and steel strand cabling. Steel gates, the facility comes with a loading ramp, working race, feeding troughs and water troughs. The sprinkler system requires some repairs to operate.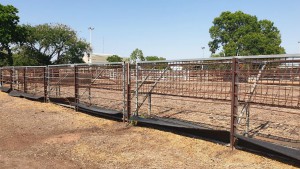 A Mettler Toledo weighbridge of 18m2 is located adjacent to the yards, supported by an elevated air-conditioned office. The weighbridge is trade certified and due for annual calibration in March 2020.
The two-storey complex was built in 2004. The bottom floor has five offices (which can be used as bedrooms), reception/lounge area, lunch room, laundry and staff amenities. The upper floor has a three-bedroom, two-bathroom residence and front deck overlooking the Norman River
A 6mtr high clearance storage and machinery shed with a concrete floor of approximately 525m2, including secure storage areas, cool room, freezer room, and an amenities block all sit under the main roof.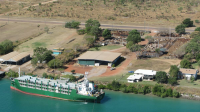 The 200m2 wharf is reinforced concrete deck and supported by steel piles, and is connected to the main yards by a race and laneway with access to the weighbridge
KLE has a current Registered Premises Audit Report current as at 3/12/19 prepared under the Australian Export Control (Animals) Order 2004, and the Australian Standards for the Export
of Livestock (version 2.3) 2011.
This audit does still require a physical inspection prior to any receivals of livestock that are export eligible and are being directly sent to the wharf. It is important to note that the current licence, No LAE190 is registered to Karumba Livestock exports Pty Ltd, not any individual, and in effect cannot be transferred without a new application being made.
The Karumba Livestock Export Facility is an important component of the Live Export industry of the Peninsula and Gulf areas and is located within reasonable travelling distances of a significant number of cattle that under normal circumstances are destined for the Live Export trade from either Karumba, Townsville or Darwin.
Alternative usages:
The property has a valuable frontage to the Norman River with moorings and the capability to be adapted for a variety of other uses other than a Livestock Facility. They include but are not limited to;
1. Fishing and wharfage operations
2. Tourism destination
3. Helicopter operations, (commercial pastoral, tourism, survey, government)
4. Transport depot
5. Service facility
6. Small manufacturing facility
The property is for sale by negotiation.
In the first instance interested parties are invited to submit expressions of interest by the COB on the 6th March 2020 to Peter Watkins at peter@agadvisory.com.au
Expressions of interest should include an indicative offer price and any conditions that the offeree wishes to include so that full consideration of the offer can be undertaken by the owner.
The business is for sale which includes all the assets of the business including the property.
This would have significant advantages for a purchaser.
Further information on this can be provided upon request.
CALL PETER NOW
Mobile 0429383041