Land Size: Area of 153.1
Location: 317 Balaam Road, Bowen, QLD, 4805
Special Features: Some of the highest quality cropping soils in the district
317 Balaam Road, Bowen, QLD, 4805
Some of the highest quality cropping soils in the district
'Pacific Red Produce', 317 Balaam Road, offers a opportunity to grow and produce all horticultural crops and grass cropping.
The property comprises a total land area of 153.1 hectares on one title of which approximately 80 hectares has been developed as serviced arable land. Benefited by grey alluvial soils to deep black clay soils, the property has historically grown capsicums.
Also suited to a wide variety of crops including tomatoes, beans, corn, eggplant and pumpkin along with sorghum, sugarcane and permanent plantings such as mangoes with an established orchard already in place.
Located on the East Euri Creek area providing ease of access to major arterial networks.
The land boasts quality soil, including some of the highest quality cropping soils in the district.
• Water allocation portfolio totalling 303 megalitres
• Excellent water supply via bores and dam storage
• Extensive water infrastructure (including underground irrigation throughout)
• Quality soil types along Sandy Gully being fallow for 2 years
• Established Mango Orchard: 1,800 R2E2 Mango trees 4 years old
• 1,100 M2 Packing sheds with cold storage, office facilities + machinery shed.
Expression of Interest closing Friday February 21, 2020, 12 noon
Call Robert Now for Information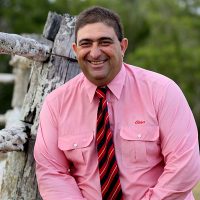 ROBERT MUROLO
Elders Real Estate Mackay Rural
0418 799 934
Robert.Murolo@elders.com