Amos Vale Bull sale
Sneak peek 2021 Sale bulls.....
July 22nd lock it in Amos Vale Bull sale
Sale starts at 1.30 pm Insepctions 10am
Do ability, functionality, longevity , performance off grass and non pampered is the Amos Vale way.
Through the careful selection of these foundation females and by retaining only the best cows throughout the years, we have put together an outstanding cow herd.
Run only under commercial conditions, the Amos-Vale cow herd display great colour and constitution, are good framed, structurally correct cows with great length and depth, tremendous milking ability and temperament.
Stud sires for use in the Amos-Vale herd have always been carefully selected.
We have maintained a high standard of selection criteria and sourced some of the best and most suitable bloodlines from a wide range of leading studs throughout the nation including Devon Court, Invernaion, Cootharaba, Talbalba, Courallie and Cara Park to name a few. These bulls, coupled with our elite cow herd that are genetically strong and diverse, has enabled us to consistently produce an even line of quality, correct, meaty bulls for our clients each year.
Our commitment and dedication, along with the predictability and marketability of the wonderful Hereford breed, has enabled us to stay competitive in a sometimes volatile industry for 51 years, something we are extremely proud of.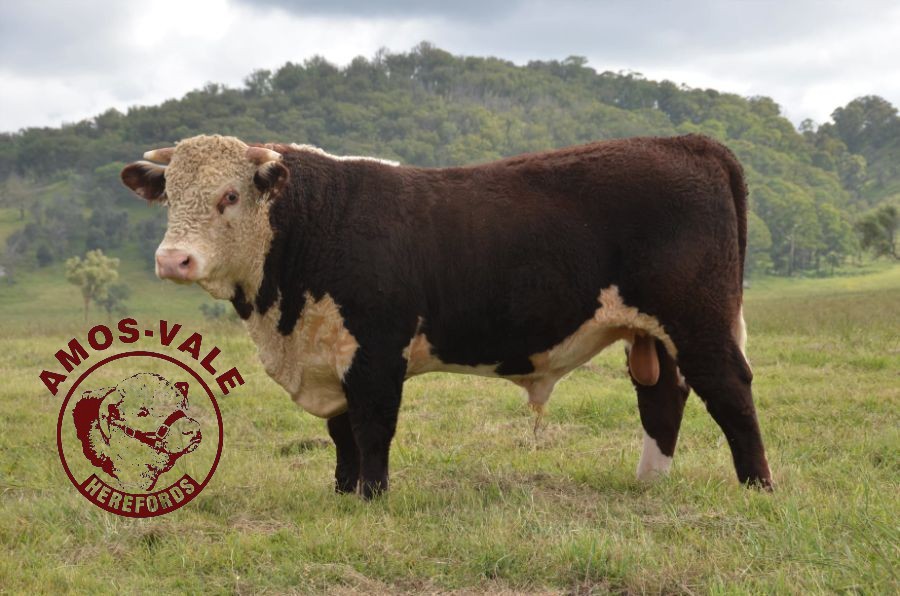 News Flash for Amos-Vale
Supreme Exhibit of the Guyra Show 2021
Amos Vale has went back to back with Supreme Exhibits of Guyra show, last year winning with a bull and this year a heifer, amazingly they were both out of the same cow.
Firstly congratulations to Guyra for a wonderful Hereford Feature show and a great cattle show overall. Huge numbers especially Herefords and real quality.
Amos Vale Lioness Q026- 16 months old
Junior Champion Hereford Heifer
Grand Champion Hereford Female
Interbreed Junior Heifer
Supreme Female of the show
Supreme Exhibit of the Show
Her stable mate " Poddy" who was Junior Champion in Glen last weekend was 2nd in her class to Lioness.
Hi Flyer was 3rd in his class.
Amos Vale also took out Interbreed breeders group with our team and Interbreed pair of females
Huge thanks to Casey N Nigel Wieck and massive thanks to Laura Lockhart who done a wonderful job!!!
Thanks also to Tom Nixon Devon Court Herefords for judging today and your glowing endorsement of the heifer and our program