BEEF AUSTRALIA
from May 06, 2018 - 8:00am until May 12, 2018 - 3:00pm
Australia's national beef expo is one of the world's great beef cattle events and is held just once every three years in Rockhampton, Queensland, Australia. Beef Australia 2018 will be held from May 6 to 12 and will be a celebration of all facets of the Australian beef industry.
It will facilitate new trade and export opportunities by exposing the local supply chain to the international industry leaders; it will feature more than 4500 cattle from over 30 breeds; a trade fair promoting more than 500 businesses; a symposium, seminars and property tours to deliver new research information to producers; and restaurants, celebrity chefs and cooking demonstrations for visitors to appreciate the quality and flavour of Australian beef. Come inside and find out how you can be part of the fun.
KAIUROO STATION PROPERTY TOUR (MONDAY 7TH MAY)
Information on Kaiuroo Station click on image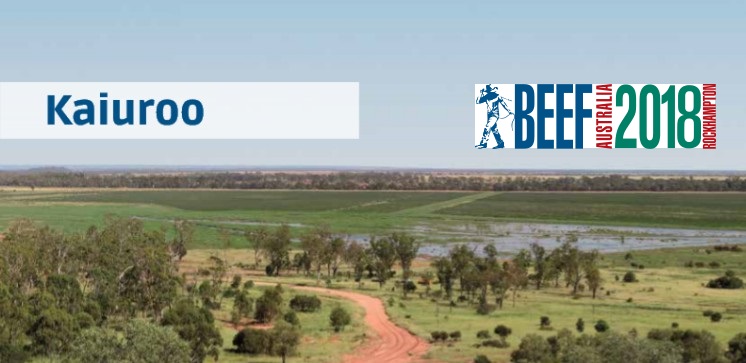 Jennifer McCamley and Tom Emmery of Kaiuroo, are proud to be part of Beef Australia 2018 and look forward to welcoming guests as part of the Westpac Property Tour program.
Kaiuroo is a highly productive stud and organic commercial beef breeding, irrigation and drylands cropping enterprise in the heart of the fertile Fitzroy river basin.
Visitors will see first-hand Kaiuroo's unique and diverse mixed farming operation, large-scale irrigation systems and registered Grey and Red Brahman herd. What's more, guests will gain an insight into the cutting-edge breeding program employed at Kaiuroo.
An amalgamation of five neighbouring properties nestled next to the MacKenzie River, visitors will be treated to a comprehensive introduction to operations led by Jennifer McCamely and Tom Emmery of Ag Resource Management.
Jennifer and Tom will showcase their innovative approach, which combines the best practical procedures with the very latest science in Brahman seedstock. They will present how profitability in their commercial herd has defined their objectives, and reveal how they have used a genotyping program to describe the genetic merits of animals in the seedstock.
The Kaiuroo registered herd is currently involved in a MLA Donor Company funded project. The project aims to measure phenotypes for male and female reproductive performance as a part of the Brahman Breedplan analysis from a seedstock herd. David Johnston and Matt Wolcott from AGBU will be presenting the MDC project objectives, early outcomes, and the latest developments in the genetic evaluation for tropical beef breeds on the tour. Paul Williams from TBTS will demonstrate ovarian scanning as well as presenting key updates from the Brahman BIN project.
Key Information
Transport via Light Aircraft Commence Boarding @ 7:00am
Morning Tea & Lunch Included. Price: $750
KAIUROO STATION CLICK ON MAP FOR WEB SITE
The Beef Australia Symposium is an event not to be missed. With previous expos providing exceptional benchmarks with renowned speakers, 2018 will be no exception. The Symposium will focus on the global disruption agenda and how this is affecting the beef sector currently and into the coming decade. In a time of Uber, Amazon, drones, virtual reality and crowd funding the way we undertake business is changing rapidly. The Beef Australia Symposium in 2018 will analyze what these changes mean for the Australian Beef sector.
The symposium will look at the disruption paradigm from the angles of politics and market access, investment and capital funding, Agri-tech innovations and finally food and consumer trust issues in a modern economy.
A number of keynote presentations as well as panel session from a number of leading industry identities will discuss how individual business and the industry as a collective charter this era of disruption. For more information please download the attached PDF.
Symposium Date: Tuesday 8 May 2018
Time: Registration opens at 7.45am – 8.20am, Welcome from our MC, Chris Riddell at 8.50am, Keynote speaker, Hamish MacDonald at 8.50am – 9.30am
Location: Rockhampton State High School Sports Complex
FOR ALL INFORMATION CLICK ON IMAGE