Futurity Shorthorns
Futurity Shorthorns
2019 On Property Bull Sale
Thursday 29th August, 1pm
55 Shorthorn Bulls
33 Temana Charolais Bulls
11th Annual on Property Sale will kick off at 1 pm on Thursday 29th August 2019.
Click Auction Plus for photos and videos

The 55 sale bulls represent the best of what we do. They are the pick of 120 bulls retained for sale in 2019.
The breeding program at Futurity is focused on breeding cattle for the high-quality end of the Australian Beef Meat Industry.
They are performance recorded and have the data to back up their physical appearance.
They also have the durability to perform in the western conditions in which they are raised.
Genetically the cattle have much to offer as they combine light birth weights, rapid growth, and superior carcase quality.
Fururity will be offering the freight subsidy to ensure the coordination and transport is cost efficient and your purchase arrives safely. How it works – at settlement you can nominate to pay $100/bull and Jason will organise to have them delivered within NSW borders and to Roma no more to pay.
CLICK ON IMAGES FOR THE BREEDING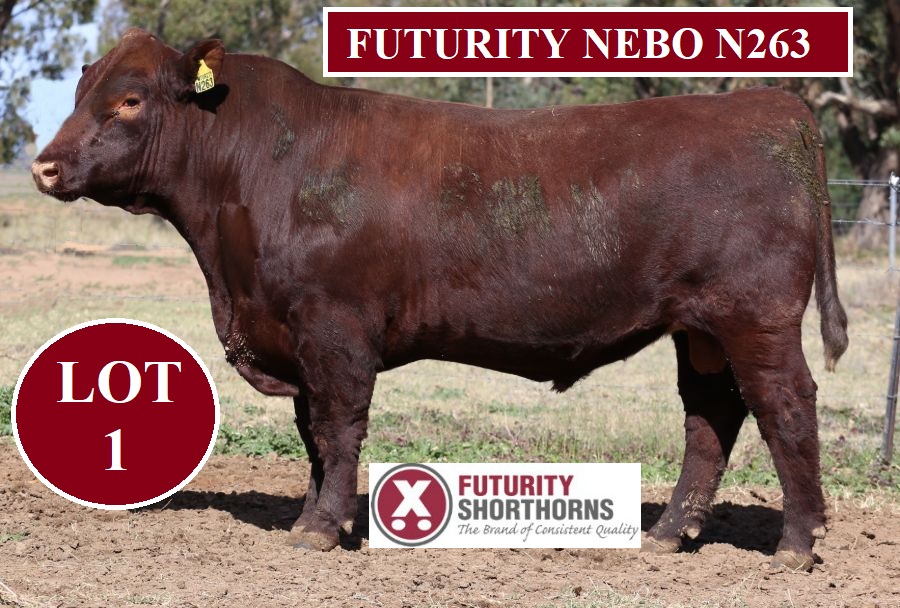 LOT 1 - FUTURITY NEBO N263 Homozygous Polled
This cherry red, short coated easy doing young sire stands on perfect structure. Nebo is solid across a wide range of traits and will add growth to most herds without sacrificing maternal and carcase performance. Top 5% scrotal size and days to calving Dam History. Age 5 years, calves 4, 18 days increase in calving interval.
LOT 2 - FUTURITY NAPIER N261 Homozygous Polled
Slick coated easy doing young sire with plenty of capacity. If you are looking to increase EMA marbling and meat quality in your herd this is a bull for you. Note the outstanding carcase data on this young sire. Retaining semen for in herd use and progeny testing.Below breed average for birth weight above for growth, Top 1% IMF, Top 5% EMA and Export Maternal Index, Dam History. Age 5 years, calves 4, 21 day reduction calving interval
LOT 6 - FUTURITY NECESSITY N266 Homozygous Polled
This young sire is a standout for his growth, carcase characteristics, high yield and still has excellent fat cover and doing ability. Rarely have we bred a bull with so much thickness behind that is still very correct in his structure. Necessity's dam is one of the picks of her drop for type and maternal function. Sparta K571 is breeding excellent structured, hooves and dispositioned cattle. Top 1% Days to Calving Top 10% Scrotal size, carcase weight and retail beef yield Dam History. Age 4 years, calves 3, 9 day reduction calving interval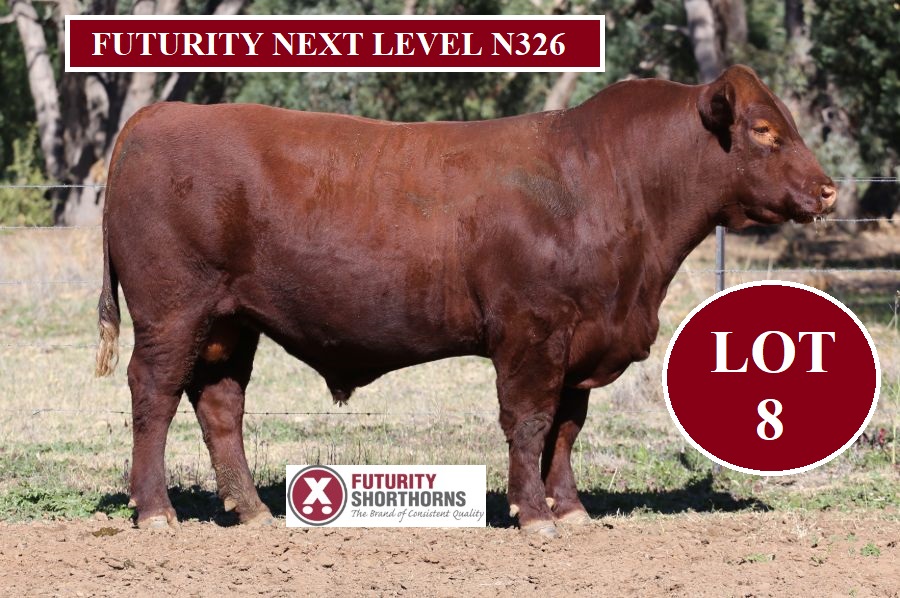 LOT 8 - FUTURITY NEXT LEVEL N326 Homozygous Polled
This bull is taking it to the Next Level. This young sire has outstanding phenotype, he is very sound, has great carcase characteristics, he's super quiet and has data that is matched by few in the breed. We used Next Level as a yearling on our best first calved cows last spring. Next Level has had only one brother who sold for $12000 in last year's sale to Artimore SA. Retaining 50% of semen sales and semen for in herd use and progeny testing. Top 5% Gestation length, Days to calving, fat, IMF and All Index values.Dam History. Age 8 years, calves 7, 21 day reduction calving interval
LOT 9 - FUTURITY NAVIGATOR N316 Homozygous Polled
This outstanding young sire takes maternal profitability and carcase merit to a new level. Navigator is very sound, loads of average daily gain, has great carcase shape and is from a very productive female. We used Navigator on heifers last spring. Retaining 50% of semen sales and semen for in herd use and progeny testing. Top 1% Export Maternal Index Top 5% IMF and Domestic and Northern maternal Indexes Dam History. Age 7 years, 6 calves, 12 day reduction in calving interval
LOT 17 - FUTURITY NARRATOR N329
Very heavy, easy doing young sire that has stood out since birth. Narrator is soundly made and has excellent meat quality traits. Above breed average for growth and below for birth weight Top 10% fat Dam History. Age 7 years, calves 6, no change in calving interval
CLICK ON IMAGE TO VIEW ALL LOTS


TEMANA CHAROLAIS
Terry and Maylene extend a warm invitation and welcome to everyone attending our 11th Annual on property sale at Glen Ayr Baradine NSW.
Even under the exceptionally challenging year we have all been handling the consistency in our breeding continues at Temana.
On offer are 24 moderately frame meaty bulls displaying good carcase characteristic, even fat cover, sound structure and great temperament.
We have 4 yearling bulls which we think are exceptional with softness, length, muscle and great temperament. Their Sire is Temana H99E who had length, softness, muscle and the most unbelievable temperament.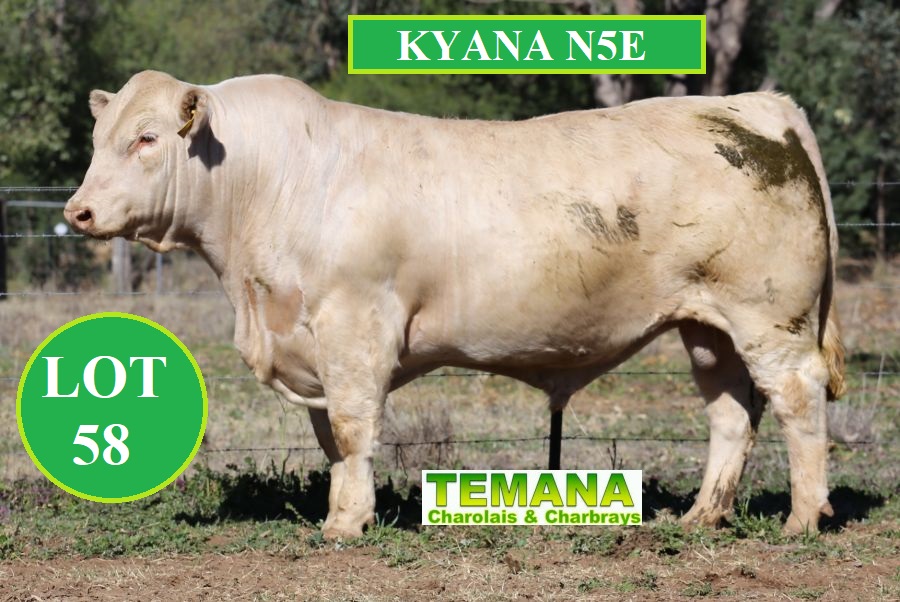 Lot 58 A free moving bull with length and depth. He is in the TOP 15% for IMF, TOP 20% scrotal size and TOP 25% for Rib fat.
Lot 62 He is long, shows excellent carcass attributes and free moving.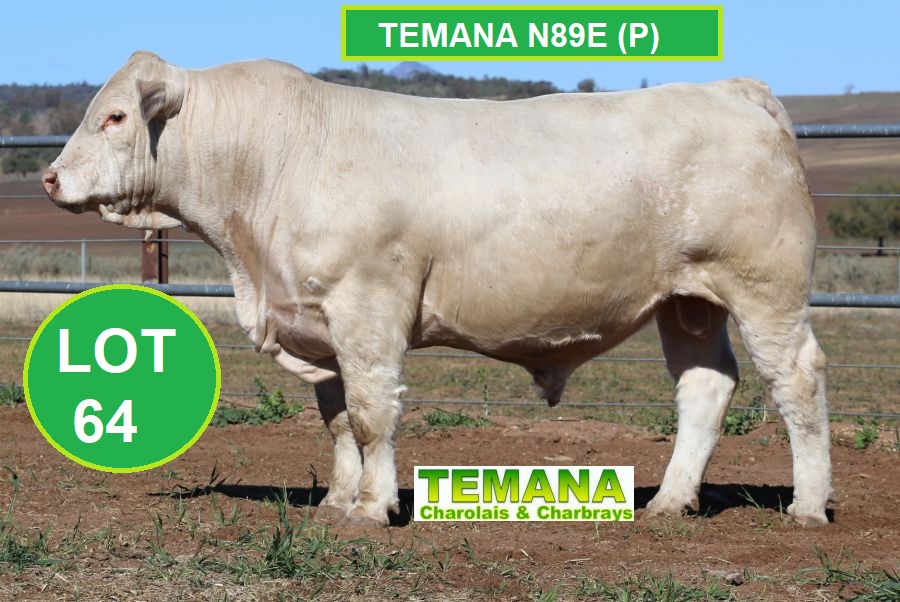 Lot 64 He is a well balance poll who is smooth and long with natural thickness that will put extra weight into his progeny. Well worth your inspection.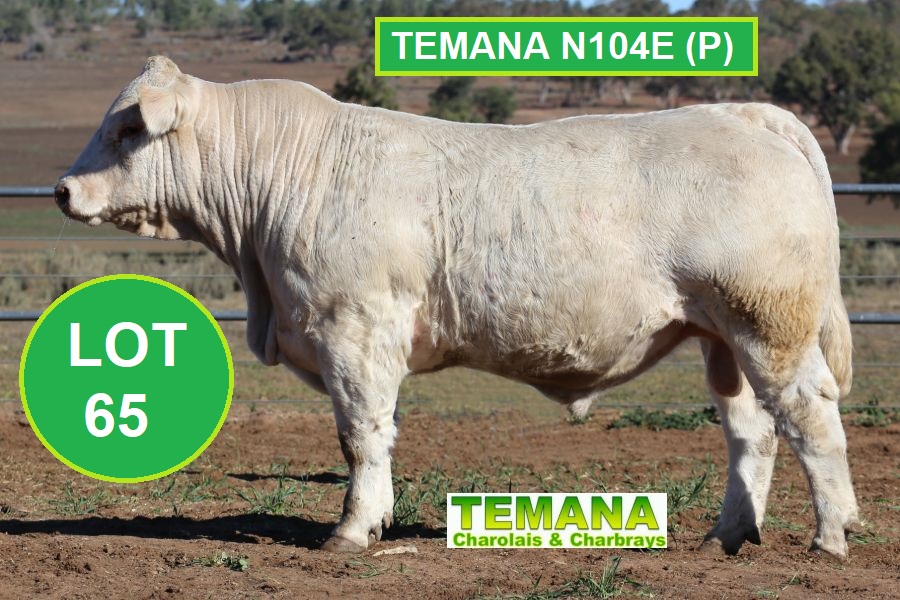 Lot 65 Bull not to be missed, Poll, very complete with depth and length of spine with plenty of muscle and yet shows ample of softness. He would make a great stud sire or any crossbreeding program. His Dam is one of our great females with heaps of milk.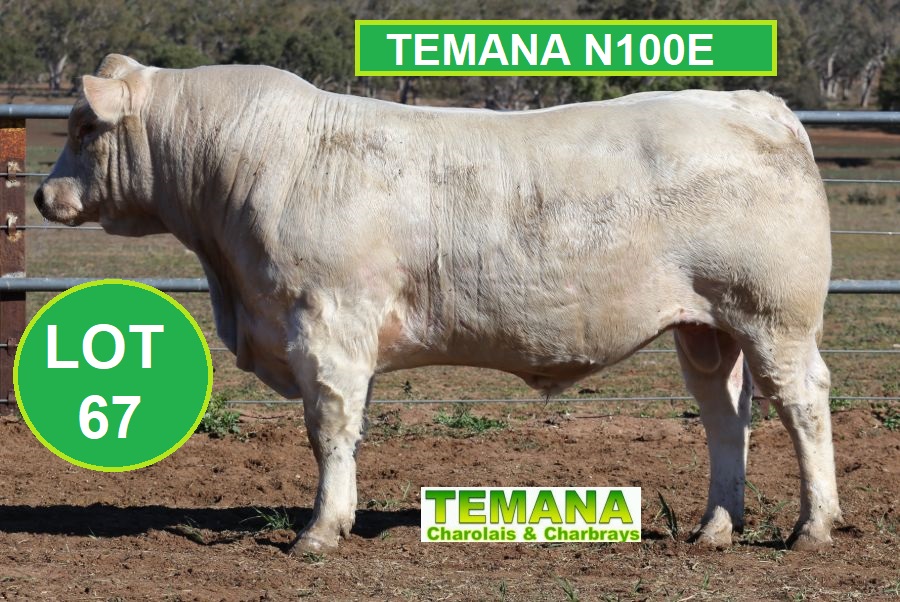 Lot 67 Very complete poll sire with depth and length of spine and muscle.