Way Out West Festival 2019
from Apr 25, 2019 - 9:00am until Apr 28, 2019 - 5:00pm
In 2018 just as the drought was starting to bite, Winton in Outback Queensland swelled to nearly ten times its usual population as in excess of 6,500 people from across Australia flocked to the iconic outback town for Winton's Way Out West Fest, a musical and cultural celebration for the opening of the Waltzing Matilda Centre.
With the outback spirit warming every heart, Aussies headed West and when the dust settled, visitors left asking the question, 'what about next year'? And with that the yearly pilgrimage to Outback Queensland to celebrate the spirit of Waltzing Matilda was born, with Winton this year hosting the iconic event from April 25-28.
This year's festival gives an even bigger line up of superstars, announcement including ARIA nominee Amy Shark, iconic singer/songwriter Missy Higgins, US country stars Brett Eldredge and Jon Pardi, rockers San Cisco and Lime Cordiale and Aussie legends Ross Wilson (Daddy Cool), Glenn Shorrock (Little River Band) and John Schumann (Redgum) as well as Travis Collins, Shane Nicholson, Chad Morgan and of course special return guest John Williamson, bringing the spirit of Waltzing Matilda to life.
ARTIST APPEARING AT THE FESTIVAL
Winton Mayor Gavin Baskett.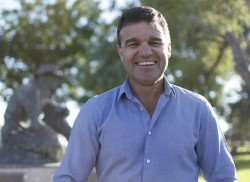 "Winton Shire Council are pleased to present the second Winton's Way Out West Fest," said Winton Mayor Gavin Baskett. "The Festival is a great reason to come visit western Queensland, enjoy Winton's hospitality and enjoy the very best Australian and International artists. Our town comes alive with music everywhere. It is much more than a music festival. It is a celebration of small-town Australia and your chance to experience outback life and support outback communities. I can promise you a great time at Winton's Way Out West Fest in 2019".
BOOK TICKETS NOW
CLICK ON IMAGE